What is BlockTales? BlockTales is thin, BlockTales is beautiful, BlockTales goes anywhere and lasts all day. There's no right way or wrong way, it's crazy powerful, it's magical. You already know how to use it. It's 200 hundred thousand apps, (and counting). All the worlds websites in your hands. It's video, photos, more books than you could read in a lifetime. It's already a revolution, and it's only just begun.
The same cannot be said for
The BlockTales That Never Was!
Part 3: With great Lego Chessboards comes great reusablility.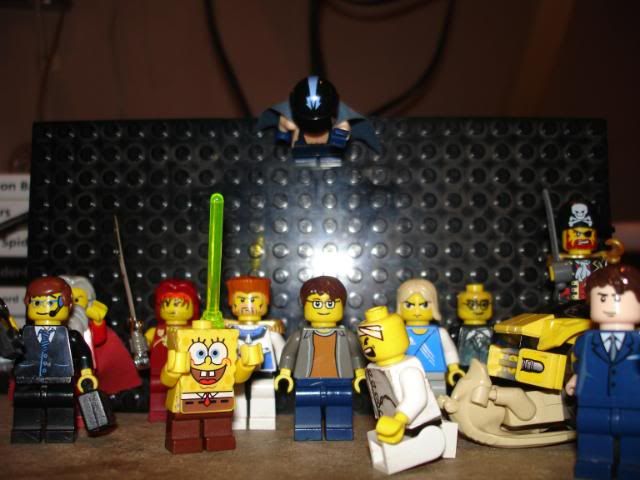 The cast of TBTTNW!, except only the main antagonists...
When I get a new set, it's not long before it is integrated into the metaphorical script. There was one set however, G678 - Knights' Kingdom Chess Set which has been used almost non-stop since purchase. Remember the Blue Knights in The Beginning? Remember the Blue Knights in The Warzone? The Blurans? Yeah, back in TBTTNW! there was a whole stand-a-lone comic for them? Yes, FantasyTales. Now, to show the extent of this overuse, I will show you the first five strips!
Now, I'll quickly set the scene:
In the far off land of Lotronia, all was unwell. There was a threat so big that it consisted of a whole 16 11men. Actually, scrap that, there was actually 8 men and 3 skeleton guys. Usually the skeletons work for some human necromancer or lich, but this time the 8 men worked for two skeletons with some actual armour and they in turn worked for some skeleton king guy. Yeah. But then, from their unbudgetable castle, the Blue Knights are the lands first (and probably last) hope. At the 64 chequered squares (Also known as the chessboard that they came with) the two armies meet.
Strip 1: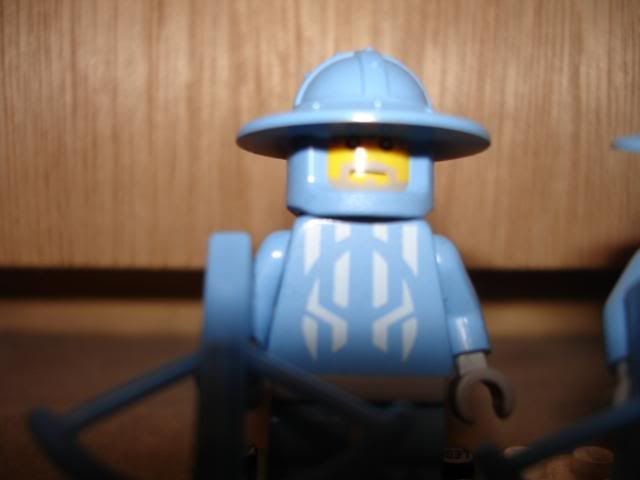 This is what the Blue Troops look like. Remember that now.
This is what the Blue Knights look like. Remember that now.
This is there King. Remember that too, there may be a test at the end.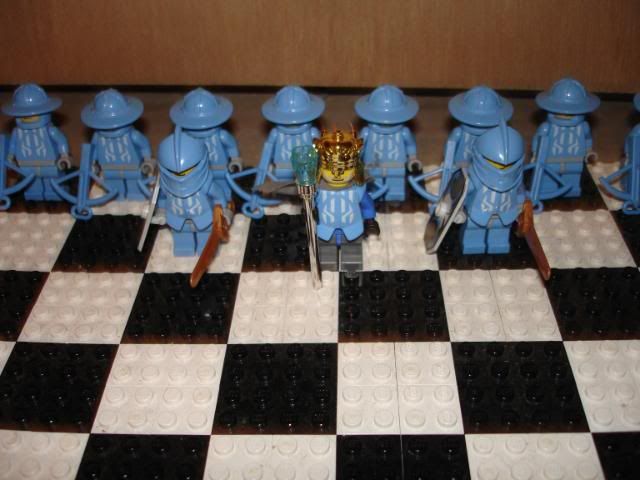 This is the entire force. Get ready for the punchline!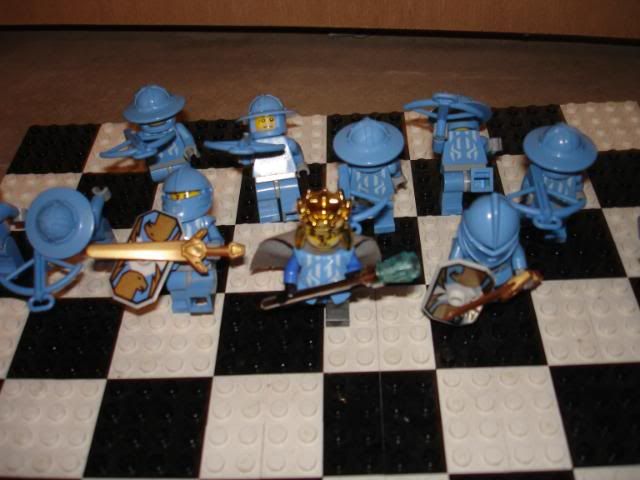 Hahaha... Wait, what? I don't get it.
---
Strip 2:
This is what the 8 men look like. Yeah, they're all General Mark Lee. I've actually fitted this into a storyline for future BlockTales. Yeah, BlockTales has a story.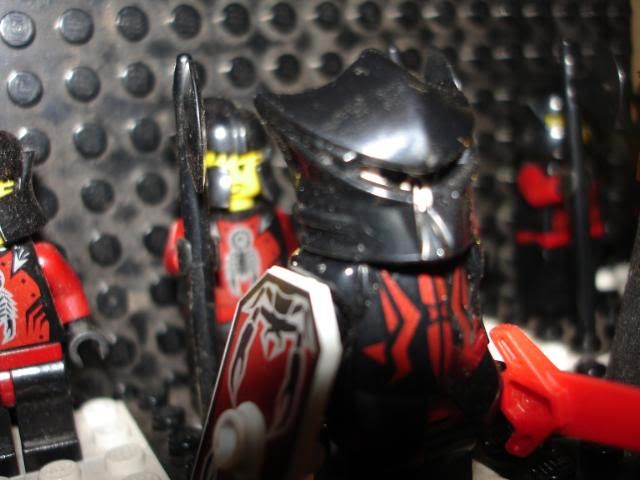 This is what the two Skeleton people (who don't really need that armour as much as their men) look like.
And this guy, he's either a foreign king or a misinformed necromancer.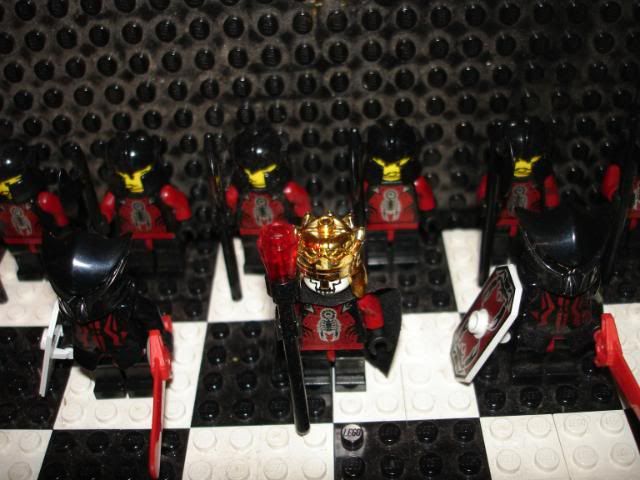 This is them, in front of the infamous black wall of TBTTNW!
God, I've never actually realised how bad this was before. Probably 'cos this is the first time I've looked at it since filming.
---
Strip 3:
I would annotate under the pictures but there's nothing to say. It's just badly posed minifigure-fighting.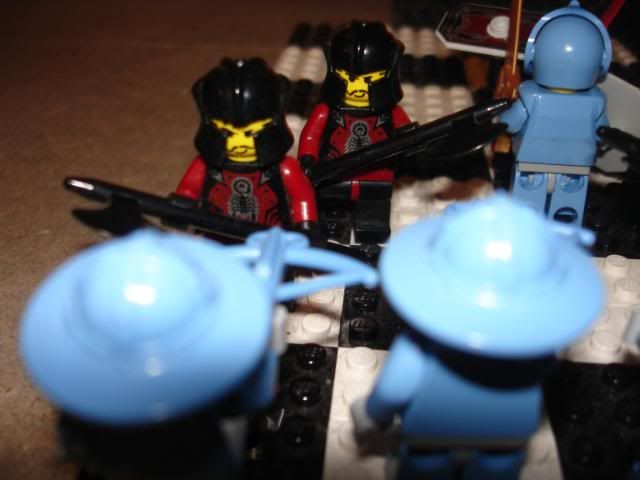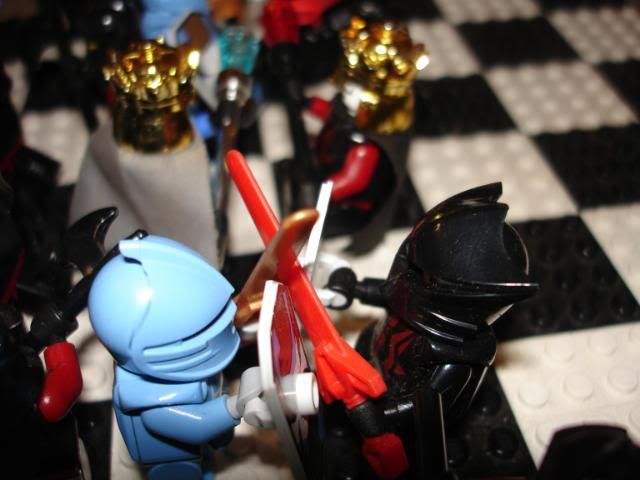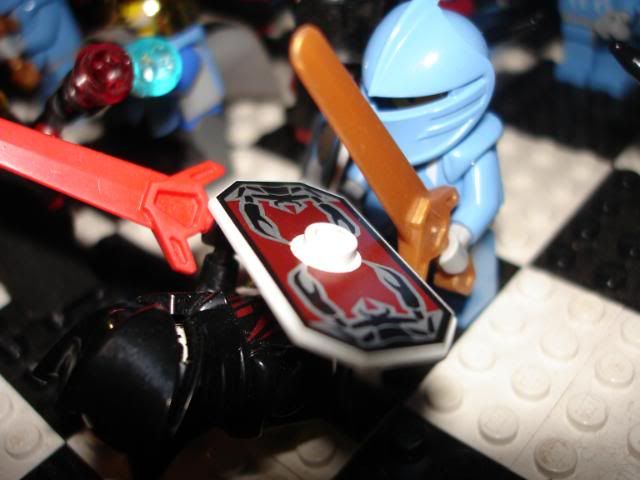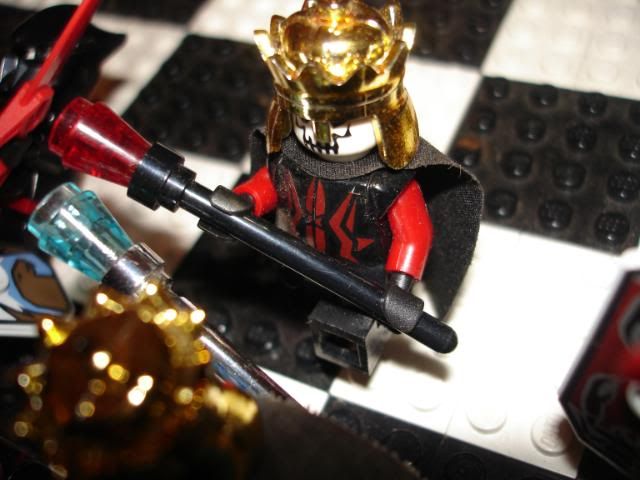 ---
OK, I've come across a problem. I don't actually have any more of the pictures it seems. Don't worry, all that happened was a few more dismemberments and a Blue Knight thought the NecroKing guy, eventually slashing his staff.
Be back next week when delve into the realms of DEATH. (Sorry, I'm a Terry Pratchett fan!)